25 Manga and Graphic Novels for Your Teen's Library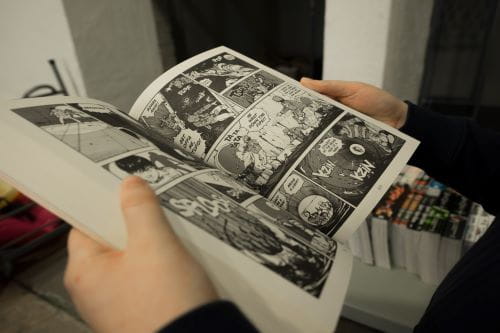 While supporting your teen's book habit, it's good to know that manga and graphic novels are not only great entertainment, but also continue your child's language development. Despite their often colorful appearance and sparse text, graphic novels and manga are not simply picture books for older children. Rather, nonfiction and literary graphic novels offer an "alternative, appealing way for students to analyze literary conventions, character development, dialogue, satire, and language structures as well as develop writing and research skills."
These are not the comics that some parents and grandparents may remember from childhood. Through the 1950s, this story format was given the label "comics' in a time when the art and the storylines of these short, newsprint magazines were not complicated. In the 1970s and 1980s, though, superhero comics began to introduce complex storylines and elaborate artwork. Literary and historical themes or retellings of classic novels were presented in graphic form, too. In 1992, Maus, a graphic novel about the Holocaust by Art Spiegelman, became the first graphic novel to receive a Pulitzer Prize.
As publishers continue to fill bookstores with this popular genre, deciding which titles are appropriate for your teen can be a challenge. Both the artwork and storyline need to match your teen's developmental stage for both story comprehension and emotional maturity of the topic presented. In addition, many manga targeted to teens can contain material a parent might want to discuss with their teen or not have their teen exposed to yet.
A parent can learn which are the most popular manga and graphic novels first by asking the local librarian for suggestions. Reading a few of the titles will give a parent a good idea about prominent themes and presentation. If the library does not carry many manga, bookstores are often well-stocked and allow customers to have a quick read while in the store. Knowing what your teen is reading can lead to opportunities for parents to discuss sensitive topics while also developing your teen's language skills and comprehension.
Collecting Manga
Teens who love manga especially, might want to purchase an entire series. This can become cost prohibitive in series that contain ten to twenty books or more. Other options for your teen to enjoy the series include checking the books out from the local library, starting a manga club with a book swap, waiting for the omnibus collection, or subscribing to the manga serialization digitally.
For reading online, discuss with your teen the effects of pirated copies for both the author and publisher. While many pirated versions of manga and its animated cousin, anime, are available online, viruses can be attached to those copies. Helping your teen to become aware of all the issues regarding digital content will assist them in making safer and ethical choices online.
Comics are not just for kids anymore. With manga and graphic novels embracing complex storylines and characters, teens and parents can enjoy the genre together. Start with the recommendations below to get an idea of the main themes and content in the genre. Be sure to review the books before giving one to a teen as some titles have mature themes.
Classic Manga
Fullmetal Alchemist by Hiromu Arakawa
Tokyo Mew Mew by Reiko Yoshida and Mia Ikumi
Naruto by Masashi Kishimoto
Chi's Sweet Home by Kanata Konami
Bleach by Tite Kubo
Death Note by Tsugumi Ohba
Akira by Katsuhiro Otomo
Fruits Basket by Natsuki Takaya
Black Butler by Yana Toboso
Classic Graphic Novels
Anya's Ghost by Vera Brosgol
Ghost World by Daniel Clowes
Real Friends by Shannon Hale and LeUyen Pham
Hey, Kiddo by Jarrett J. Krosoczka
Scott Pilgrim's Precious Little Life by Bryan Lee O'Malley
The Girl from the Sea by Molly Knox Ostertag
Bloom by Kevin Panetta and Savanna Ganucheau
Long Way Down: The Graphic Novel by Jason Reynolds and Danica Novgorodoff
The Complete Persepolis by Marjane Satrapi
Maus I: A Survivor's Tale: My Father Bleeds History by Art Spiegelman
Nimona by N.D. Stevenson
This One Summer by Mariko Tamaki
Smile by Raina Telgemeier
Sheets by Brenna Thummler
Go with the Flow by Lily Williams and Karen Schneemann
American Born Chinese by Gene Luen Yang
About the Author
| | |
| --- | --- |
| | V. Kulikow is a former Montessori teacher and youth services librarian. She currently works as a UX designer and enjoys content creation both with words and images. On weekends you can find her gardening, taking nature photos, and working on her garden design certification through the Native Plant Trust. |
Interested in writing a guest post for our blog? Let us know!